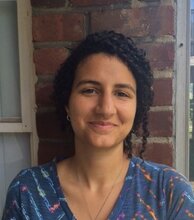 The Program in Jewish Culture & Society is pleased to announce that Claire Baytas is the 2022-2023 Gendell Family and Shiner Family Fund recipient. In her own words, Claire describes her academic experience, her research interests, and the role of the fund in supporting her ongoing studies:
"When I arrived at the University of Illinois as a new student in the Comparative Literature PhD program, I had no idea I wanted my research focus to be in Memory Studies. I had spent the past few years living in Turkey and then in France, teaching English and improving my knowledge of the Turkish and French languages. During that first month at Illinois, I was invited by a few colleagues to join them at a meeting of the Future of Trauma and Memory Studies Reading Group. I was enraptured by that first meeting: scholarly conversation in Memory Studies addressed so many of my longtime questions about literature, art, politics, and history. Since then, my scholarly activities as a graduate student have been centered in this field. I have continued participating in the reading group and co-directed it from 2018 to 2021. I have also served on the planning committee for the Annual Graduate Student Symposium in Memory Studies since 2017, as well as contributed to HGMS's Days and Memory Blog.
My dissertation research ultimately combined my interests in memory, France, and Turkey. My project examines a set of contemporary literature and cinema in French and Turkish that references the violence committed by the late Ottoman Empire and early Turkish Republic. The works I study do not take place at that point in history, but instead make significant mentions of it within narratives about other traumatic histories from the late twentieth and early twenty-first centuries. By examining these transhistorical juxtapositions, I present new ways of understanding the importance of Turkey's founding in literature and film, as well as highlight the national security culture that has driven violence against minorities across time in the French and Turkish nation-states. In particular, I explore how and why French-language writers based in France have used the Turkish past as a tool to discuss the experiences of the marginalized in contemporary France.
The Gendell Family and Shiner Family Fellowship is providing financial support while I write the final sections of my dissertation, revise according to committee feedback, and prepare for my defense. This final push to complete this long-term project is intensive and time-consuming; being awarded a fellowship has therefore been a massive, essential aid to me in achieving my goals. While it is still too early to know where I will be working next year, I know that the vast knowledge and ethical orientation I gained from doing my PhD work in Memory Studies will continue to guide me."