On April 23, 2018, the UIUC campus and beyond got a sneak-preview of Sayed Kashua's newest novel, Track Changes. Sayed is a prolific and internationally lauded Palestinian-Israeli journalist, novelist, columnist, and screenwriter. So far, Track Changes is only out in Hebrew (and recently on the Israeli best seller list). Sayed read part of the soon-to-be-published-in-English translation to an attentive crowd of about 50 people—students, faculty, community members.
The novel tells the story of a ghost writer who begins to invent memories. The title tracks the process of making changes to those memories and in the Hebrew version the changes are typographically visible on the page—in Hebrew and Arabic. It remains to be seen exactly how the English translation (to be published by Grove Press) will handle all the typological inventiveness of the original but I am sure I am not alone in anticipating its publication with enormous enthusiasm. Sayed received many apt questions that demonstrated how closely his rapt audience listened to his reading. Someone asked about writing from self-imposed exile, for example, writing from afar (the novel was written entirely while Sayed has been a Visiting Clinical Professor here at UIUC in the Program in Jewish Culture & Society) about Israel. This led to a complicated response about being at home at not at home and about what it means to relocate and view your "native" country from a distance, as one might view earth from the moon. Another person asked about the writing process, about how an artist whose work moves so fluidly between novels, screenplays, and journalistic columns can determine ahead of time in what genre any given idea will appear. Sayed then replied with his characteristic humor that he had a great idea for a novel with a deep internal structure but he sold it to an Israeli television producer in order to send his daughter to college!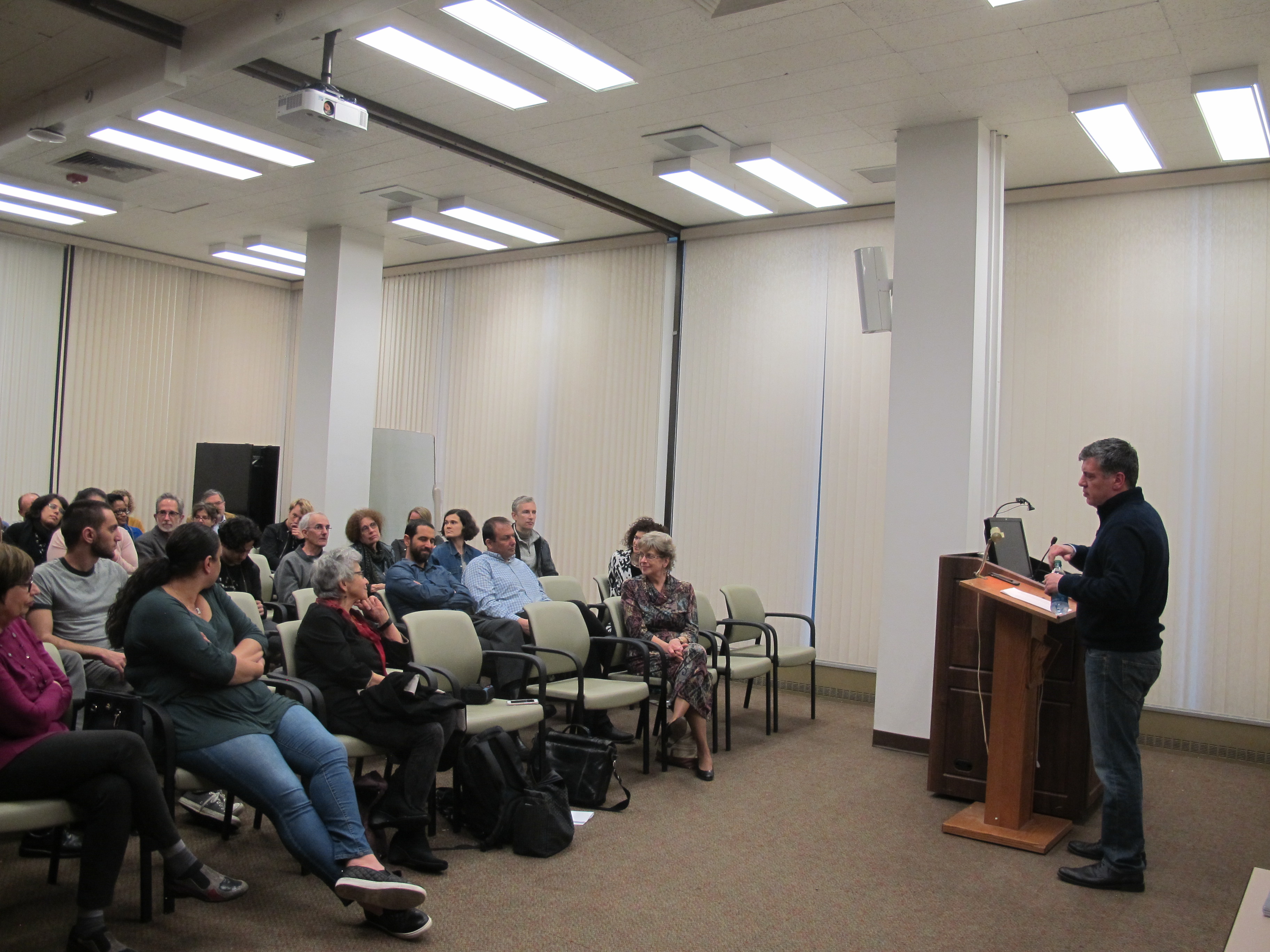 When he framed and introduced Track Changes, before he began reading, Sayed explained that it formed the end of a quartet of novels that began with Dancing Arabs. When asked to expand on this, he said that all four of his first novels featured characters who resonated with each other—who may be differently described in one novel as a lawyer,  and other a photographer, etc. but who are sort of similar as if they were in the same family. So, if Track Changes does end up being the end of a novelistic quartet, it will be fascinating to see what this versatile writer produces next.
It ended up being a bit of a melancholy evening, despite the engaged audience, because Sayed and his family are moving to St. Louis this summer so that Sayed can enroll in the lauded international Ph.D. program in Creative Writing at Washington University. Originally a JUF supported postdoc through the Israel Studies Project, Sayed then stayed on as a Provost, LAS, and Program in Jewish Culture & Society supported three-year Visiting Clinical Professor. We were able to offer him a three year continuation of this contract and I am so grateful to everyone who helped secure this. The list is long but I would especially like to thank Martin Camargo, Cole, Nancy Benson, Feng Sheng Hu, John Wilkin, Bill Bernhardt, Andreas Cangellaris, Wojtek Chodzko-Zajko, and Tracy Sulkin for their enormous help in bringing the offer forward.
In the past four years, Sayed has been exceedingly generous to this campus and community and also given some wonderful readings and discussions in Chicago to some of our supporters there. Here in Champaign we screened the film based on his early novels, Borrowed Identity (to a crowd of about 250 people at the Art Theatre), launched his collection, Native (held at the Public Library to encourage on- and off-campus groups to attend), and screened sections of his TV shows Arab Labor and The Writer.So many people have benefitted enormously from his time here.
Before Track Changes, Sayed published the novels Dancing Arabs, Second Person Singular, and Let it Be Morning. As well as being the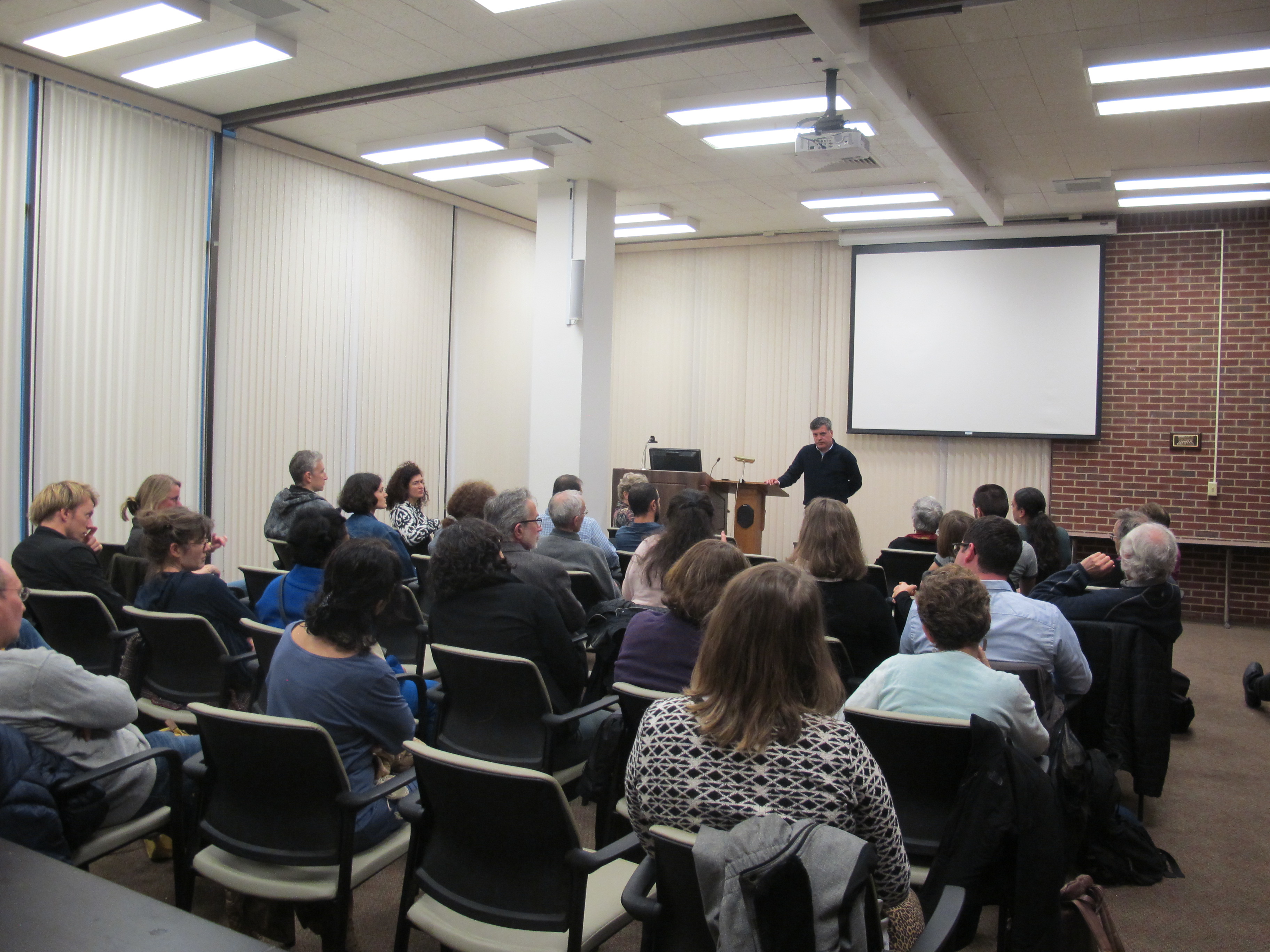 director of his department, I am a huge fan of his novels. All of them are sensitively written and deftly combine personal stories with reflections on the political situation for Palestinians within Israel. At a formal level, Second Person Singular is the most complex of these first three novels and brings an aching sensibility to the story of a young man who chooses to bury his Arab identity in order to meld into Israeli society by choosing a borrowed (Jewish) identity. Including fascinating plot twists, multiple perspectives, and a very subtle analysis of the larger questions at play in Israel-Palestine the novel is absolutely brilliant. 
Sayed's prominence has risen exponentially since he agreed to come to Illinois and his articles in widely circulated fora such as The New Yorker often feature our community in ways that put us on the map. Kashua's voice is regularly present in international newspapers such as Le Monde and The Guardian. During his time in Illinois he has been featured on various NPR programs and also toured numerous university campuses, to great acclaim. 
While on campus he taught courses in TV Writing, Comedy Writing, Screen Writing and special topics courses such as The Palestinian-Israeli Conflict Through Cinema as well as Advanced Hebrew.
 Sayed and his family will be sorely missed and we wish them all the very best as they embark on their new adventure in St. Louis.