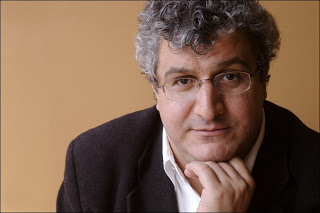 Samir el-Youssef is a Palestinian writer and critic who was born in 1965 in Rashidia, a Palestinian refugee camp in southern Lebanon. At 10, he moved to Sidon. He emigrated to Cyprus in 1989 and since 1990 has been living in London, where he studied philosophy and gained a Master of Arts degree from the University of London. In 2000, he was granted British citizenship. He writes in both Arabic and English, and some of his work has been translated into German, Italian, Greek and Norwegian. He is also an essayist with a wide range of interests including literature, politics, philosophy and cultural studies. His first novella in English was published in a shared volume Gaza Blues (2004) with Etgar Keret. Since then he has published two other novels Illusion of Return (2007), a meditation on the Palestinian right of return, and Treaty for Love (2008) about the relationship between a Palestinian journalist and an Israeli writer. In 2001, he won the Tucholsky Award, a PEN award for a refugee writer. In 2010 he began the Arab-Israeli Book Club in London in conjunction with the Jewish writer Ariel Kahn. He now edits the affiliated online literary magazine which brings Arab and Israeli writing together with a mission of creating a space for dialogue. http://arabisraelibookreview.com/ 
Moderated by Rachel S. Harris, Assistant Professor of Hebrew Literature and Israeli Cultural Studies University of Illinois.
Location: Third Floor, Levis Faculty Center 919 West Illinois Street, Urbana  
Date: Monday, November 12, 2012, at 7:30 pm
Video here.