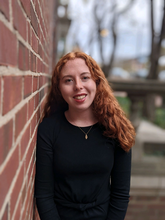 The Program in Jewish Culture & Society is extremely pleased to announce that Maxine Katz has been awarded the Fall 2020 Ronald H. Filler Jewish Studies scholarship. Maxine is  a senior majoring in Religion, minoring in Spanish, and has received an Interfaith Certificate from the Religion Department. Within the Religion Department, Maxine has concentrated on Christianity, mostly in Catholicism and Early Christian Thought, with a secondary concentration in Judaism. Her capstone project was on Eusebius of Caesarea's historicized theology in two of his works: Ecclesiastical History (Books VIII and IX) and The Life of Constantine. For courses in Jewish Studies, she has taken History of Antisemitism, History of Judaism, and in Readings of Rabbinic Midrash. She has also studied abroad twice: her first was during the Spring 2018 semester in Granda, Spain, for Spanish and second abroad experience was in the Summer of 2019 for an intensive language institute for Biblical Hebrew at Hebrew University in Jerusalem. 
Because of her lifelong curiosity in comparative religions, she has taken her experiences abroad in language and culture and has applied them to further understand religious identity, ritualization, and the usage of space, images, and commentaries in the reciprocal relationship of religion in the individual and society. Maxine has always been interested in how historical practices of religion, especially in liturgy and literature interact. From her time in Granada, she found ways to practical ground the theoretical understanding of academic religion into the practice of individuals in society both historically and in the modern-day. During her time in Jerusalem, she observed a variety of religious practices, while additionally gained knowledge of Biblical Hebrew for her academic coursework. During both experiences abroad, she also grew in understanding her Jewish identity, specifically what being Jewish, especially an American Jew meaning in a global context. 
The Ronald H. Filler Scholarship in Jewish Studies is awarded to a Jewish Studies student each fall and spring semester. The scholarship supports a student who has demonstrated a commitment to Jewish Studies and excelled in relevant coursework. The award in Jewish Studies is one of a number of scholarships that Mr. Filler has created to support students across the campus with a diverse array of interests and strengths. Part of Ronald Filler's vision when he created the Filler Scholarships at the University of Illinois was to promote excellence, to provide mentorship, and to encourage awardees to make meaningful contributions based on their own strengths and accomplishments. The recipients become part of a network of Filler Scholars who embody this vision and enhance the impact of the awards. Past recipients of the Ronald Filler Scholarship in Jewish Studies have gone on to pursue legal careers, work for Jewish community and philanthropic organizations, and play an active role in their synagogues and communities.
Click here for more information about the Ronald Filler Scholarship in Jewish Studies and past winners.