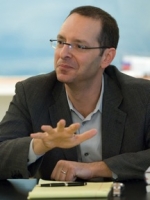 Amir Eshel is one of the world's leading scholars of Jewish and Holocaust literature. The Edward Clark Crossett Professor of Humanistic Studies at Stanford University, he is also a Professor of German Studies and Comparative Literature as well as the Director of the Europe Center at Stanford's Freeman Spogli Institute for International Studies.   In his talk, Eshel will discuss the concept of "Futurity," an idea he develops in his latest book Futurity: Contemporary Literature and the Quest for the Past (University of Chicago Press, 2013). An investigation of trauma in literature and the arts, he suggests that the weight of the past has trapped us in a search for reason in the madness of the twentieth century's catastrophes. In contrast to this retrospective gaze, he advances the notion of Futurity, restoring literature's prospective vision and opening up the present to new political, cultural, and ethical possibilities. 
Location: Third Floor, Levis Faculty Center
Date: February 18, 2013
Video of the lecture here.
Made possible by the generosity of the Rosenthal Family Endowment.