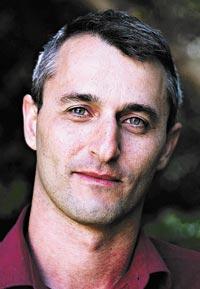 Eshkol Nevo is one of Israel's most admired young authors. Born in Jerusalem in 1971, he is the author of two novels, a collection of short stories, various pieces of non-fiction, as well as a children's book. He landed a best-seller with his novel Homesick, a kaleidoscopic text set in 1995 that tells the stories of a group of men and women brought together by accident in a small neighborhood between Tel Aviv and Jerusalem. The book, which was published in English translation by Dalkey Archive Press in 2010, won the Book Publishers Association Gold Prize and the FFI-Raymond Wallier Prize at the Salon du Livre. In this wide-ranging conversation, Rachel S. Harris will talk to Nevo about his work as well as the social and cultural situation in Israel more generally. 
Moderated by Rachel S. Harris, Assistant Professor of Hebrew Literature and Israeli Cultural Studies University of Illinois 
Location: Third Floor, Levis Faculty Center 919 West Illinois Street, Urbana 
Date: Monday, December 5, 2011, at 7:30 p.m.
Video here.