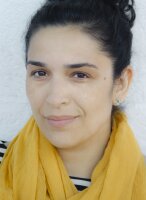 Contact Information
1207 W. Oregon Street, MC 136
Urbana, IL 61801
Research Interests
Performance Studies, Puerto Rican Studies, Latinx Studies, Latin American and Caribbean Studies, Gender, Sexuality & Queer Studies, Postcolonial Studies, Continental Philosophy, Contemporary American Literature, Theatre Studies, Minoritarian Aesthetics
Education
Performance Studies, Ph.D., New York University
Performance Studies, MA, New York University
English Language & Literature, BA, The University of Chicago

Courses Taught
Graduate Seminar: Issues in Performance Studies
Graduate Seminar: Minoritarian Aesthetics
Grad/Undergrad: Brown and Black Existentialisms
Grad/Undergrad: Latinx Performance & Performance Studies
Grad/Undergrad: Latinx Dramatists from the 1960s to the Future
Undergraduate: Theories and Methods in Latina/o Studies
Additional Campus Affiliations
Associate Professor, English
Associate Professor, Gender and Women's Studies
Associate Professor, Asian American Studies
Associate Professor, Program in Comparative and World Literature

Recent Publications
Ruiz, S. (2020). Performance. In K. P. Murphy, J. Ruiz, & D. Serlin (Eds.), The Routledge History of American Sexuality (pp. 243-250). Routledge. https://doi.org/10.4324/9781315637259-23
Ruiz, S. (2019). Crossing the Line: The Here and Now of Race and Gender, and the Entanglements of Love in Performance Art and Pedagogy. In Autumn Knight: In Rehearsal Krannert Art Museum.
Ruiz, S. (2019). Ricanness: Enduring Time In Anticolonial Performance. New York University Press. https://doi.org/10.18574/nyu/9781479888740.001.0001
Ruiz, S. (2017). Organismal Futurisms in Brown Sound and Queer Luminosity: Getting Into Gressman's Cyborgian Skin. Performance Matters , 3(2), 72-91. http://performancematters-thejournal.com/index.php/pm/article/view/100
Ruiz, S. (2016). Review: U. Noel's In Visible Movement: Nuyorican Poetry from the Sixties to Slam. ALH Online Review, (Series VII).