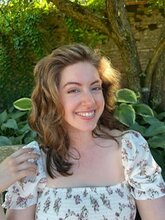 The Program in Jewish Culture & Society is pleased to announce that Tamar Dallal has been awarded the Fall 2022 Ronald H. Filler Jewish Studies scholarship. Tamar is a senior in Engineering Physics at the University of Illinois Urbana-Champaign, hailing from the Chicago suburb of Skokie. Over the past three years, she has participated in a wide range of academic and extracurricular activities that reflect her interests in education, the arts, and the community. Tamar has taken many electives— in anthropology, literature, traditional art, creative writing, and horticulture. Additionally, Tamar has volunteered and worked with many K-12 students from the Champaign-Urbana community as well as the Chicago community, helping support them in math and physics. In addition to being a physics peer mentor and an LAS ambassador, Tamar has also achieved a place on the Dean's List every semester at UIUC. She has been a James Scholar both in the college of LAS and Grainger Engineering, and a research paper Tamar worked on was recently published in a scientific journal.
Tamar has been involved with Jewish life on campus for three years. She has worked as a mashgiach, supervising the kitchens to ensure that kosher standards are maintained and making a point to be present in and for the community. In 2014, she took part in the oral history project Names, Not Numbers, interviewing survivors of the Holocaust. Tamar has been working with Professor Liat Alon on the Central Illinois Jewish Communities Archives, learning more about how small Jewish communities came to be and what daily life looked like in the past. This project involves interviewing community members, and Tamar looks forward to the work of meeting people and transcribing their narratives. 
Tamar imagines a future with Judaism and a connection to community at the forefront. Her academic goals include a graduate program in Engineering Design and Innovation, a creative and problem-solving endeavor about which she is incredibly excited. 
The Ronald H. Filler Scholarship in Jewish Studies is awarded to a Jewish Studies student each fall and spring semester. The scholarship supports a student who has demonstrated a commitment to Jewish Studies and excelled in relevant coursework. The award in Jewish Studies is one of a number of scholarships that Mr. Filler has created to support students across the campus with a diverse array of interests and strengths. Part of Ronald Filler's vision when he created the Filler Scholarships at the University of Illinois was to promote excellence, to provide mentorship, and to encourage awardees to make meaningful contributions based on their own strengths and accomplishments. The recipients become part of a network of Filler Scholars who embody this vision and enhance the impact of the awards. Past recipients of the Ronald Filler Scholarship in Jewish Studies have gone on to pursue legal careers, work for Jewish community and philanthropic organizations, and play an active role in their synagogues and communities.
Click here for more information about the Ronald Filler Scholarship in Jewish Studies and past winners.