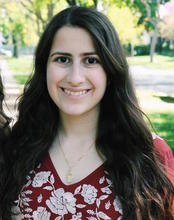 My name is Meirav Malter and I grew up in Wilmette, Illinois. I am a senior with a double major in Global Studies and Jewish Studies. Within Global Studies, my concentration is governance, conflict, and resolution, with an area studies focus on the Middle East. I am also pursuing a minor in History with a focus on Middle East history. Due to my interests in Jewish Studies and Middle East Studies, I chose to study abroad in Israel for academic year 2016-17 at Tel Aviv University (TAU). At TAU, I took intensive language courses in both Hebrew and Modern Standard Arabic. I also took fascinating courses on the relationship between Judaism and Christianity throughout history, Middle Eastern statehood, tribalism in the Middle East, and the social and cultural history of the region. Upon my return to UIUC, I have continued my studies of these topics, and I am currently working on an honors thesis project in the Global Studies department that extends my research on the Bedouin tribes of the Sinai Peninsula.
This past summer in Israel, I worked as a research intern at the Institute for National Security Studies and published my first article with my advisor, Dr. Ofir Winter. Our article was published in English as an "INSS Insight" and was also translated into Hebrew and Arabic (by a separate publication). It also appeared on the Peres Center for Peace's recommended reading list for August 2017. In addition to this academic accomplishment, I also received several merit scholarships from UIUC towards my study abroad, including the Kelsey Fourdyce Study Abroad Scholarship and the I4I Scholarship. I also received the inaugural Dr. Martin Kalmanson Scholarship from the American Jewish League for Israel towards my year of study abroad. As a visually impaired student, I am a multiple-time winner of the Chicago Lighthouse Scholarship for legally blind and visually impaired students, and of the Blind Service Association scholarship. Both scholarships are awarded to eligible students who also achieve academic excellence. Finally, I have been lucky to receive the Mary Jane Neer Scholarship from the Division of Disability Resources and Education Services at UIUC for the spring semesters of 2016, 2017, 2018.
Throughout my time at UIUC, I have been very involved in the Jewish community on campus through Hillel and Chabad. I have organized Israel related programs through the Israel American Council's "Mishelanu" program and I work closely with the Israel fellow on campus and my peers in Jewish/Israel student organizations. I also have had a strong connection to the Program in Jewish Culture and Society. I am highly interested in the Hebrew language and I have taken full advantage of the Hebrew courses that the department offers. The advanced Hebrew instructor, Sayed Kashua, has been a wonderful teacher and challenged me to read literature, poetry, and short stories in Hebrew that are not taught in traditional language courses. I hope to continue my studies of academic Hebrew in the upcoming spring semester through an independent study with Mr. Kashua. Apart from the interesting coursework and activities at UIUC, the department encouraged me to take advantage of the Jewish Studies courses offered at TAU, which inspired me to pursue a major in the department rather than only a minor. I plan to graduate from UIUC this spring, and then pursue an MA in diplomacy and conflict resolution at a university in Israel. The outstanding education I received at UIUC in Jewish Studies and Global Studies gives me a solid foundation to pursue my future goals and contribute to the Jewish community and society as a whole.