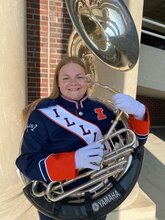 The Program in Jewish Culture & Society is pleased to announce that Marie Jensen has been awarded the Spring 2023 Ronald H. Filler Jewish Studies scholarship. Jensen is from Grand Ridge, Illinois, and is a senior majoring in English and German with a minor in Jewish Studies. After graduation, she plans to pursue a Masters degree in German Languages, Literatures, and Linguistics at UIUC. After graduate school, she hopes to continue on to the PhD or move on to teaching high school German. 
On campus,  Jensen has been involved with many different groups, including Golden Apple Illini, an organization focused on preparing educators of schools-of-need; Epsilon Delta, a professional teaching society; German Club; Delta Phi Alpha, a German honor society; and the Marching Illini, where Jensen takes an active role in the mentorship of new members. During her time at UIUC, Jensen has received such recognition and awards as the D.C. Nance Scholarship, Fred S. Bailey Scholarship, a first-place prize for the DAAD North America Competition, the Terry and Marie Welch Scholarship, and the Peter and Susan Schaeffer Scholarship. She has also received an honorary certificate for the Friedrich Dürrenmatt Essay Contest and made the Dean's list every semester. 
Writing about the benefits of a Jewish Studies minor, Jensen notes the ways that coursework she may not have otherwise encountered adds context to her teaching philosophy as a future instructor of the German language. Connecting an important topic in Jewish studies to her own pedagogical training, Jensen presented her research paper "Why and How Holocaust Denialism Should be Taught" at a Graduate student conference this past semester. 
The Ronald H. Filler Scholarship in Jewish Studies is awarded to a Jewish Studies student each fall and spring semester. The scholarship supports a student who has demonstrated a commitment to Jewish Studies and excelled in relevant coursework. The award in Jewish Studies is one of a number of scholarships that Mr. Filler has created to support students across the campus with a diverse array of interests and strengths. Part of Ronald Filler's vision when he created the Filler Scholarships at the University of Illinois was to promote excellence, to provide mentorship, and to encourage awardees to make meaningful contributions based on their own strengths and accomplishments. The recipients become part of a network of Filler Scholars who embody this vision and enhance the impact of the awards. Past recipients of the Ronald Filler Scholarship in Jewish Studies have gone on to pursue legal careers, work for Jewish community and philanthropic organizations, and play an active role in their synagogues and communities.
Click here for more information about the Ronald Filler Scholarship in Jewish Studies and past winners.