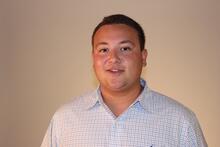 The Program in Jewish Culture & Society is extremely pleased to announce that Joshua Kravitz has been awarded the Spring 2020 Ronald H. Filler Jewish Studies scholarship. Josh is a senior in the College of Liberal Arts and Sciences, majoring in Political Science and minoring in Jewish Studies. This award is the most recent addition to his list of accolades and achievements, which include making Dean's List every semester and earning multiple recognitions by the National Honors Society. He is a familiar face to many of us in the Program in Jewish Culture & Society, as he is currently completing his fourth semester of Hebrew in addition to the Jewish Studies coursework he has taken toward his minor and his involvement in many of our sponsored and co-sponsored activities. He also completed a study abroad semester at Tel Aviv University during the Fall 2019 semester.
Josh's involvement on campus and commitment to Jewish learning are not limited to his work in our program. He has served as philanthropy chairman and recruitment chairman for Zeta Beta Tau fraternity, is an active member in the Chabad Center for Jewish Life and in Students Supporting Israel, and is a participant in and alum of the Sinai Scholars program. Josh will also be leading a Mayanot Birthright trip to Israel in May 2020.
After graduation, Josh plans to join the workforce and gain knowledge and experiences in business and development. After a few years of experience (and, ideally, accumulating some savings), he hopes to return to academia and pursue a professional degree in law or business. In the meantime, he is busy working on the final degree requirements in order to be able to graduate this May. As a capstone experience in Jewish Studies, Josh is currently conducting and specialized research project related to the work of Yossi Klein Halevi and Mohammad Darawshe, both of whom will be visiting our campus towards the end of the Spring semester (April 30-May 2). He will spend the next several months studying their work and building relationships with campus and community groups, helping ensure that we maximize the value and impact of their time with us.
The Ronald H. Filler Scholarship in Jewish Studies is awarded to a Jewish Studies student each fall and spring semester. The scholarship supports a student who has demonstrated a commitment to Jewish Studies and excelled in relevant coursework. The award in Jewish Studies is one of a number of scholarships that Mr. Filler has created to support students across the campus with a diverse array of interests and strengths. Part of Ronald Filler's vision when he created the Filler Scholarships at the University of Illinois was to promote excellence, to provide mentorship, and to encourage awardees to make meaningful contributions based on their own strengths and accomplishments. The recipients become part of a network of Filler Scholars who embody this vision and enhance the impact of the awards. Past recipients of the Ronald Filler Scholarship in Jewish Studies have gone on to pursue legal careers, work for Jewish community and philanthropic organizations, and play an active role in their synagogues and communities.
Click here for more information about the Ronald Filler Scholarship in Jewish Studies and past winners.