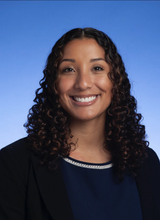 Johnna Jones (Jewish Studies minor) wins Ronald Filler Scholarship
The Program in Jewish Culture & Society is pleased to announce that Johnna Jones has been awarded the Fall 2019 Ronald H. Filler Jewish Studies scholarship. Johnna is a junior in the College of Liberal Arts and Sciences, majoring in Economics and minoring in Jewish Studies. Johnna is an outstanding student, who has been a James Scholar and made Dean's List both in her first and second years at UIUC. She is also a H.O.P.E. recipient and National Collegiate Scholar. She has held internships in the Juvenile Court system and the Department of Corrections. After graduation, Johnna hopes to attend law school and eventually serve as a judge. She is also a member of the University of Illinois Illinettes Dance Team, which affords her the opportunity to interact with community members, children, sports fans, and other dancers.
The Ronald H. Filler Scholarship in Jewish Studies is awarded to a Jewish Studies student each fall and spring semester. The scholarship supports a student who has demonstrated a commitment to Jewish Studies and excelled in relevant coursework. The award in Jewish Studies is one of a number of scholarships that Mr. Filler has created to support students across the campus with a diverse array of interests and strengths. Part of Ronald Filler's vision when he created the Filler Scholarships at the University of Illinois was to promote excellence, to provide mentorship, and to encourage awardees to make meaningful contributions based on their own strengths and accomplishments. The recipients become part of a network of Filler Scholars who embody this vision and enhance the impact of the awards. Past recipients of the Ronald Filler Scholarship in Jewish Studies have gone on to pursue legal careers, work for Jewish community and philanthropic organizations, and play an active role in their synagogues and communities.
Click here for more information about the Ronald Filler Scholarship in Jewish Studies and past winners